Sorry it has taken me so long to gush, share, analyze, and speculate about the wedding of the decade. I'm sure you have all been waiting with bated breath.
When Steve left the house Friday morning, I woke up and was a little irritated that I couldn't go back to sleep. Then I remembered....THE ROYAL WEDDING! (I had it set to record on DVR...on several different channels...knowing that I am not a morning person.) Could the wedding have been any more perfect??????
Do you think when Kate (from now on to be called Catherine) was little, she pictured her wedding would look like this?
My guess is no.
First, I love the idea of hats required at the wedding. Wish I had enforced that at mine... There were some that were very classic and beautiful - like these:
Catherine's mom, Carole, the Queen, and Camilla all looked so great. I loved the Queen's yellow outfit. So cheerful and classic. The show I was watching criticized Carole saying her outfit was "plain" but I thought it was fantastic. It also fit her perfectly. The detailing on Camilla's dress was so pretty, it could have been tailored a little more though.
Then there were some ugly hats. Like these:
And how about the Prime Minister's wife not even wearing a hat. It was on the invitation. How do you NOT wear a hat?
I thought the trees in Westminster Abbey were gorgeous. So unique and the perfect amount of color. I like this much better than tons of flowers and they said that the plants that were around the base of the trees smelled fantastic.
I was so glad they traveled to the Abbey in cars...the horses and carriages would have taken SO long. Plus, this is the new generation of Royals. Luxury cars all the way.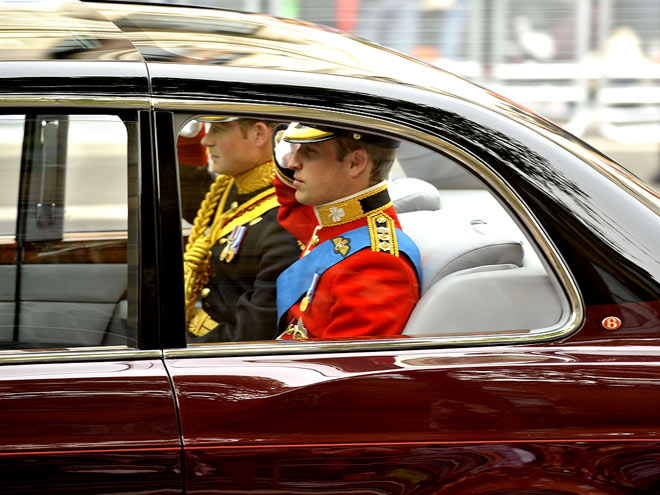 William and Harry looked so handsome. I loved the red uniform William wore...very regal. Harry looked more nervous than William did which was cute. I was dying to know what Harry whispered to William as Kate..whoops...Catherine was approaching him, and after Googling it, found out he said, "Right, she's here now." Less glamorous than I was hoping for, but that's OK.
OK, let's address the DRESS now. Was Kate not absolutely STUNNING?!?!?
I mean, seriously. They kept saying how they thought she would go against tradition regarding the dress and I was a little worried about it. Yes, you are a modern bride, but this is still a Royal wedding and you need to be respectful. Then, when I heard a designer at Alexander McQueen made the dress, I got even more worried. He was a little out there with some of his designs.
But I could not have been more pleased with her dress...not that she really cares what I think...it was classic yet modern, conservative yet sexy, simple yet fit for a princess....in a word - breathtaking. I especially loved the neckline.
She is so beautiful.
Then there was Pippa. Beautiful, beautiful, thin, striking, Pippa.
I loved the ivory dress, the fit, the color, the style, all of it. She wore it beautifully also. People have criticized her fake tan, but hello this is England...land of no sun. She would have been completely washed out in that dress without a tan. Some have said she outshined the bride, which although a great compliment to her, I completely disagree with.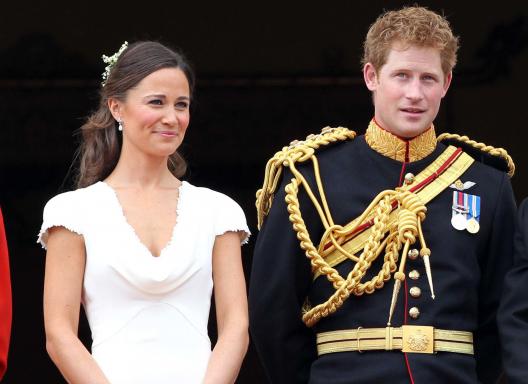 Anyone with me on this one???? I could go for another Royal wedding. I'm sure Chelsy Davy doesn't appreciate these comments, but maybe she should have brushed her hair before the wedding....there was competition present.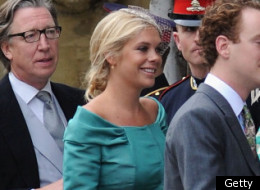 I don't think I'm alone when I say I got a little nervous when William struggled with the ring. My question is, why isn't he wearing a ring????
Also, I think it's time for William to look into a shorter hair style. That bald spot continues to grow. Bald is beautiful William.
My favorite part of the wedding was watching the little glances and whispers William and Catherine exchanged. They are such a cute couple.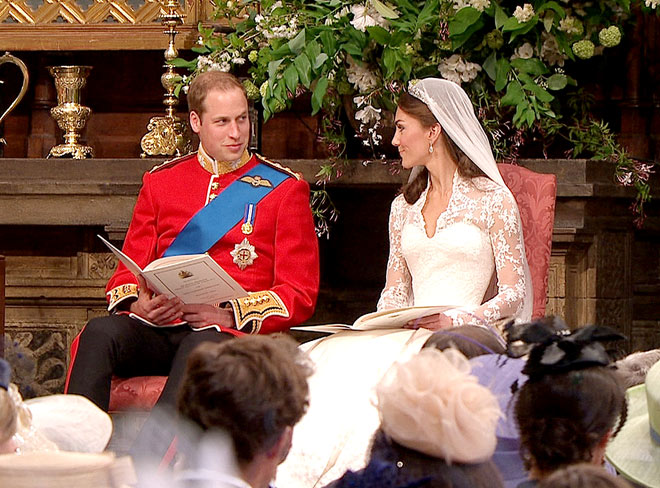 The carriage ride back to the palace was beautiful, so I'm very glad they kept that tradition.
Such a gentleman.
Then there was the kiss. Both of them.
I love love love love that they took a surprise trip in an Aston Martin to say hello to everyone.
Check out this cake:
Is it rude to have seconds at a Royal wedding? How about thirds?
Here is a picture I just found. Apparently, Catherine changed into another Alexander McQueen dress for the reception and William put on a very handsome double breasted tuxedo. Gorgeous.
I hate that people compared this wedding to Charles and Diana because to me there was one obvious difference. Catherine and William are clearly in love and are so happy....Diana and Charles looked so disconnected the whole time...in my opinion, which counts for nothing.
I think this Royal marriage has what it takes. Best wishes!